Welcome to the ACTIV website!
The association ACTIV (Association Clinique et Thérapeutique Infantile du Val de Marne) is ruled by French law 1-7-1901 and aims to promote clinical and epidemiologic studies and diagnostic and therapeutic research into pediatric diseases.
ACTIV is also an approved organisation under the research tax credit (section 244, B II of the CGI).
Founded in february 1988, ACTIV involves 2 main goals:
- Research
- Post-graduate teaching

ACTIV has the experience as well as structural, staff and methodological means to perform clinical studies, from protocol conception to national and international publication..
These studies are initiated by ACTIV, pediatricians in the field, university and official agencies, and the pharmaceutical industry etc.
The studies are performed partially or completely by ACTIV.
They cover research into infectious diseases (observatory, epidemiology, diagnostical, therapeutic methods, vaccinology) as well as dietetics, physiology, physiopathology to contribute to "evidence-based medicine"..
Although most of the studies are performed in an out-of-hospital environment, some take place in a hospital environment at a regional or national level.
ACTIV is part of the Group of Infectious Neonatal and Infantile Infections (GEMINI) Clinical Research Group (GRC), whose purpose is the real-time surveillance of infectious diseases and vaccine-preventable diseases in children.
This GRC was created in 2015, as a result of ACTIV research activity, CHI Créteil expertise in pediatric infectious disease and the creation of a Clinical Research Center (CRC) at CHI Créteil, of which ACTIV is a privileged partner.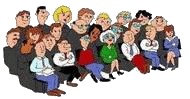 The themes of our post-graduate teaching are selected at the General Assembly of September of each year.
A "referent" member of ACTIV requests the intervention of a specialist. The annual program of courses is available on our website as soon as speakers give agree to participate.
The sessions take place at ACTIV at 8:30 pm, usually the last Thursday of each month, excluding holidays. A buffet dinner is offered during each course.
The courses in October are replaced by the Ambulatory Pediatric Infectious Diseases Day.
If you wish to attend our post-graduate teaching courses, please contact us.
2017/2018
14/10/17 : 21ème Journée de Pathologie Infectieuse Pédiatrique Ambulatoire
16/11/17 : « Pathologies à Biofilm » par le Dr Josette Raymond
21/12/17 : « La Génétique » par Arnold Munich
25/01/18 : « Comment penser la famille aujourd'hui ? » par le Dr Aldo Naouri
15/02/18 : « Troubles de l'apprentissage » par les Pr Baleyte Jean-Marc / Dr Bailly Rémi
29/03/18 : A définir
12/04/18 : « Hypnose et hypnoanalgésie en pédiatrie » par les Dr Margaux Bienvenu & Dr Anne-Francoise Thiollier
17/05/18 : A définir
2016/2017
15/10/16 : 20ème Journée de Pathologie Infectieuse Pédiatrique Ambulatoire
24/11/16 : « La génétique » par le Pr Arnold Munnich
15/12/16 : « ORL (non infectieux) pratique » par le Dr Martine François
26/01/17 : « Les Dents » par le Dr Aurélie Firmin-Vincent
23/02/17 : « Benchmarking, Discussions et analyses sur nos pratiques courantes, avenir dans 5 ans » par le Pr Robert Cohen et le Dr Christophe Batard
30/03/17 : « Hygiène au cabinet » par le Dr Si-Ali Amine
27/04/17 : Cancelled
11/05/17 : « Craniosténose et Plagiocéphalie » par le Dr Syril James
29/06/17 : « Microbiote et pathologies infectieuses » par le Dr Alexis Mosca
2015/2016
10/10/15 : 19ème Journée de Pathologie Infectieuse Pédiatrique Ambulatoire
26/11/15 : « La génétique » par le Pr Arnold Munnich
17/12/15 : « La néphrologie » par le Pr Pierre Cochat
28/01/16 : A définir par le Dr Aldo Naouri
18/02/16 : « Le harcèlement à l'école » par le Dr Bernad De Vos
24/03/16 : « L'hématologie ambulatoire - DPC » par le Dr Elisa Seror
14/04/16 : « Benchmarking, fièvre isolée de l'enfant »
26/05/16 : To be define
23/06/16 : « Le gluten » par le Dr Marc Bellaiche
2014/2015
11/10/14 : 18ème Journée de Pathologie Infectieuse Pédiatrique Ambulatoire
27/11/14 : « Assurance responsabilité médicale (et certificats) » par M. Nicolas Gombault
18/12/14 : « La génétique » par le Dr Arnold Munnich
29/01/15 : « La gynécologie » par le Dr Lise Duranteau
12/02/15 : « Troubles de l'identité du genre - Evaluation et prise en charge » par les Dr Laetitia Martinerie et Anne Bargiacchi
26/03/15 : « A propos d'éthique » par le Pr Didier Sicard
16/04/15 : « La radiologie » OU « Je n'aime pas l'école » par le Dr Catherine Garel OU le Pr David Da Fonseca
21/05/15 : « La radiologie » OU « Je n'aime pas l'école » par le Dr Catherine Garel OU le Pr David Da Fonseca
25/06/15 : « La dermatologie » par le Dr Michel Rybojad
2013/2014
19/10/13 : 17ème Journée de Pathologie Infectieuse Pédiatrique Ambulatoire
28/11/13 : « Le réseau des enfants vulnérables Développement psychomoteur jusqu'à 1 an » par le Dr Annie Elbez
19/12/13 : « Les mouvements paroxystiques non épileptiques » par le Dr Diane Doummar
30/01/14 : « Place du pédiatre de ville auprès d'une famille avec enfant porteur d'un handicap mental » par le Dr Anne Auvrignon
13/02/14 : « Chirurgie pédiatrique / axes orthopédiques Foire aux questions » par le Dr Jamil Amhis
27/03/14 : « Biothérapie et vaccins » par le Dr Véronique Hentgen
10/04/14 : « Sommeil du nourrisson et douleurs nocturnes » par le Dr Lyliane Nemet-Pier
15/05/14 : « L'asthme » par le Pr Christophe Delacourt Télécharger la présentation de cette EPU
26/06/14 : « Benchmarking OMA »
2012/2013
19 octobre 2011 : 15ème Journée de Pathologie Infectieuse Pédiatrique
27/06/13 : Homoparentalité par le Dr Catherine Jousselme
23/05/13 : Adoption internationale par le Dr Lévy-Soussan
25/04/13 : L'Ophtalmologie par le Dr Dureau Télécharger la présentation de cette EPU
28/03/13 : L'Autisme, prise en charge et dépistage par le Dr Barthelemy
28/02/13 : Echange sur les pratiques courantes ou le benchmarking en pédiatrie par le Dr Cohen
31/01/13 : L'Asthme par le Pr Just
20/12/12 : Dysphraxie par le Dr Florence Marchal
29/11/12 : Chirurgie pratique courante par le Dr Janil Amis
13/10/12 : 16ème Journée de Pathologie Infectieuse Pédiatrique
2011/2012
28 juin 2012 : L'obéissance par le Dr Daniel Marcelli (Poitiers)
31 mai 2012 : Le comportement malade par le Dr François Corrard
5 avril 2012 : Dermatologie - acné par le Dr Dominique Hamel-Teillac (Hôpital privé d'Anthony)
22 mars 2012 : La tuberculose dans tous ses états par le Dr Elisabeth Marc (Cellule de Lutte Anti-Tuberculose de l'hôpital l'Intercommunal de Créteil)
16 février 2012 : Troubles fonctionnels des apprentissages par le Dr Florence Marchal (Hôpital de Saint Maurice)
26 janvier 2012 : Les belles familles et ce qu'elles nous apprennent des crises que nous traversons par le Docteur Aldo Naouri
15 décembre 2011 : Conférence/débat : Prescrire ou ne pas prescrire en pédiatrie par le Docteur François Corrard (Combs la Ville)
24 novembre 2011 : Biothétique par le Docteur Anne Delatour-Gantzer (Paris 6ème)
15 octobre 2011 : 15ème Journée de Pathologie Infectieuse Pédiatrique